Ya­Sin | from the moshaf in arabic uthmani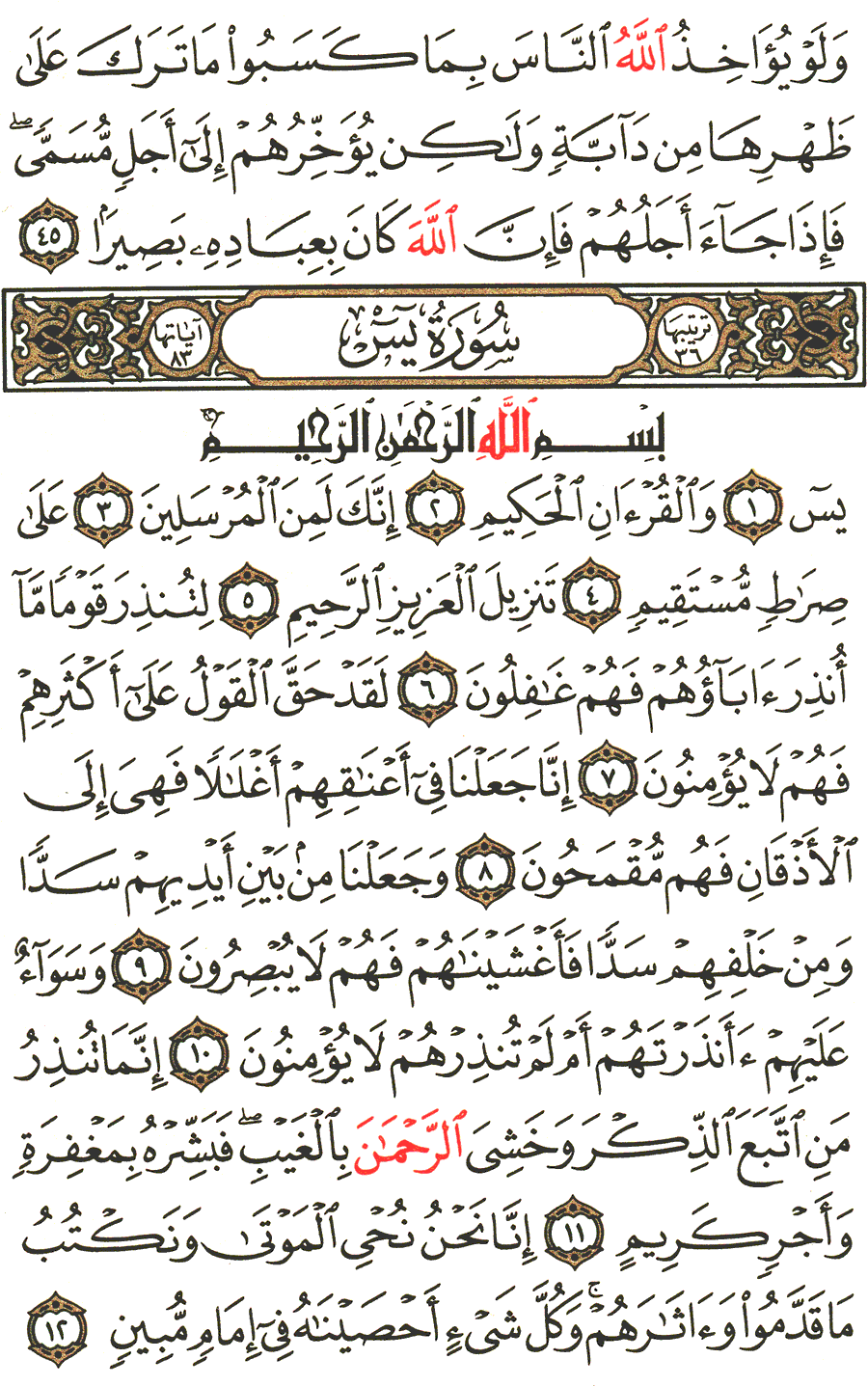 Spanish translation of the meaning Page No 440
> 440
Sura Al-Fatir from 45 to 12
( 45 ) Si Allah tomara en cuenta lo que los hombres se buscan, no dejaría sobre su superficie un solo ser viviente; sin embargo los demora hasta un plazo fijado.
Pero cuando les llega su plazo... Realmente Allah ve a Sus siervos.

[La de la tierra]
SURA DE YA SIN
En el nombre de Allah, el Misericordioso, el Compasivo.
( 1 ) Ya, Sin

[Según lbn Abbas, lbn Mas'ud y otros, significa: ¡Oh hombre!, es decir: "Ya Insan". Otros comentaristas dicen que es uno de los nombres del Profeta, que Allah le dé Su gracia y paz, y según el Imam Malik y otros, es uno de los nombres de Allah.]
( 2 ) ¡Por el Corán sabio!
( 3 ) que tú eres uno de los enviados
( 4 ) en un camino recto.
( 5 ) Revelación que ha hecho descender el Poderoso, el Compasivo
( 6 ) para que adviertas a una gente cuyos padres no fueron advertidos y están descuidados.
( 7 ) Se ha hecho realidad la palabra dictada contra la mayoría de ellos y no creen.
( 8 ) Cierto que les pondremos en el cuello argollas que les llegarán hasta el mentón y no podrán moverse.
( 9 ) Hemos puesto una barrera por delante de ellos y otra por detrás y les hemos velado, no pueden ver.
( 10 ) Es igual para ellos que les adviertas o que no les adviertas, no creerán.
( 11 ) Sólo admite la advertencia quien sigue el Recuerdo y teme al Misericordioso aunque no Lo vea.
Anúnciale perdón y una generosa recompensa.

[También puede entenderse: Cuando nadie lo ve, o en aquellas cosas que no se ven.]
( 12 ) En verdad Nosotros damos la vida a los muertos y escribimos las obras que adelantaron y las huellas que dejaron.
Cada cosa la recogemos en un registro claro.
Thanks for your support
The site of Surat Quran has been established as a humble gesture to serve the holy Quran , the Sunnah, the interest of the students of science and the facilitation of the forensic sciences on the curriculum of the book and the Sunnah. We are happy to support you and appreciate your concern for our continuation and ask God to accept us and make our work pure .
Download the Holy Quran