Surah At-Tur | from the moshaf in arabic uthmani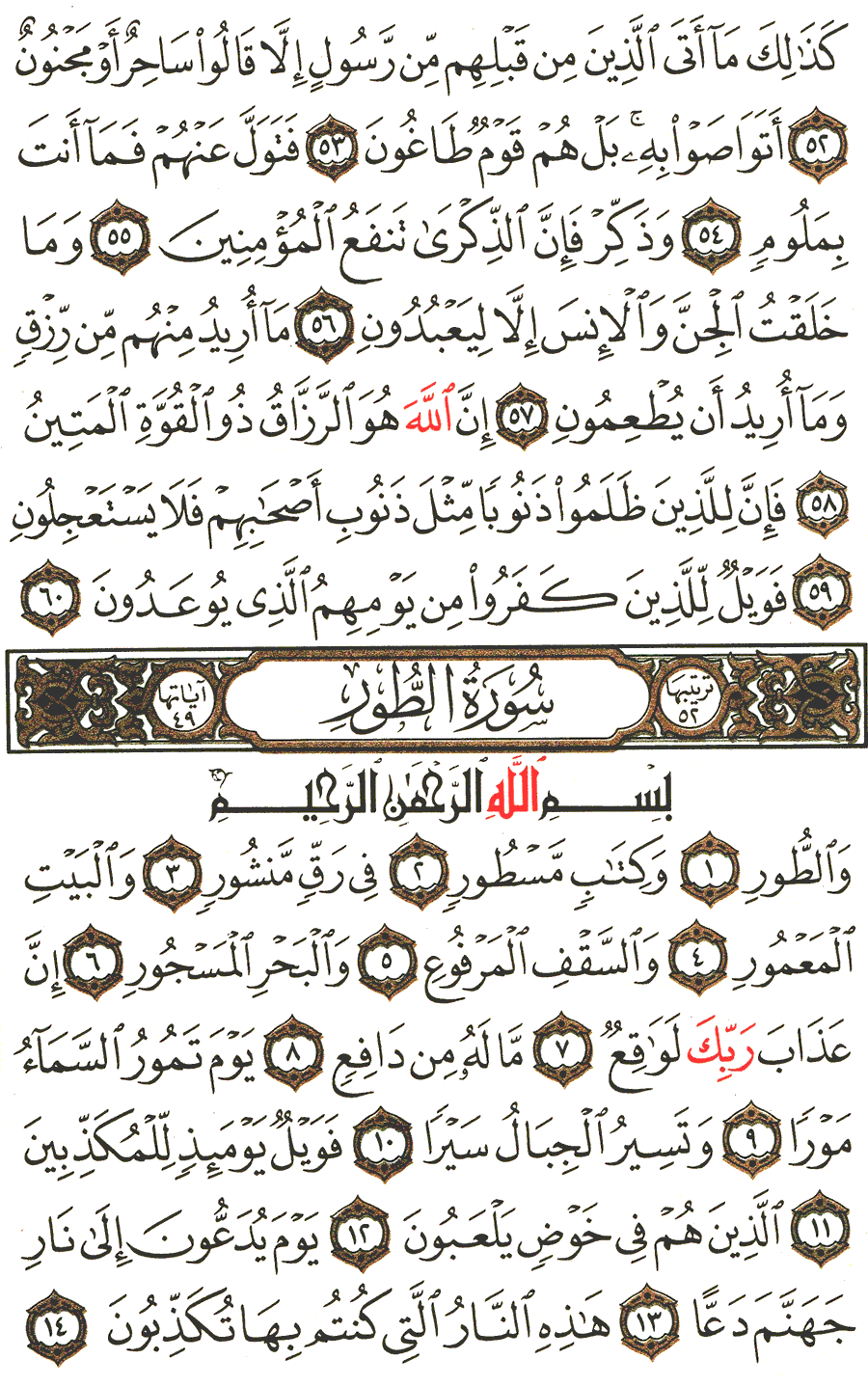 English translation of the meaning Page No 523
523
Sura Al-Dhariyat from 52 to 14
52. Likewise, no Messenger came to those before them but they said: « A sorcerer or a madman! »
53. Have they ( the people of the past ) transmitted this saying to these ( Quraish pagans ) ? Nay, they are themselves a people transgressing beyond bounds ( in disbelief ) !
54. So turn away ( O Muhammad ( saas ) ) from them ( Quraish pagans ) , you are not blame- worthy ( as you have conveyed Allâh's Message ) .
55. And remind ( by preaching the Qur'ân, O Muhammad ( saas ) ) , for verily, the reminding profits the believers.
56. And I ( Allâh ) created not the jinn and mankind except that they should worship Me ( Alone ) .
57. I seek not any provision from them ( i.e. provision for themselves or for My creatures ) nor do I ask that they should feed Me ( i.e. feed themselves or My creatures ) .
58. Verily, Allâh is the All- Provider, Owner of Power, the Most Strong.
59. And verily, for those who do wrong, there is a portion of torment like to the evil portion of torment ( which came for ) their likes ( of old ) ; so let them not ask Me to hasten on!
60. Then woe to those who disbelieve ( in Allâh and His Oneness - Islâmic Monotheism ) from their Day which they have been promised ( for their punishment ) . [ 1 ]
Sûrat At- Tûr
( The Mount ) LII
In the Name of Allâh,
the Most Gracious, the Most Merciful
1. By the Tûr ( Mount )
2. And by a Book Inscribed
3. In parchment unrolled.
4. And by Al- Bait- ul- Ma'mûr [ 2 ] ( the house over the heavens parallel to the Ka'bah at Makkah, continuously visited by the angels ) .
5. And by the roof raised high ( i.e. the heaven ) .
6. And by the sea kept filled ( or it will be fire kindled on the Day of Resurrection ) .
7. Verily, the Torment of your Lord will surely come to pass.
8. There is none that can avert it.
9. On the Day when the heaven will shake with a dreadful shaking,
10. And the mountains will move away with a ( horrible ) movement.
11. Then woe that Day to the beliers. [ 3 ]
12. Who are playing in falsehood [ 4 ] .
13. The Day when they will be pushed down by force to the Fire of Hell, with a horrible, forceful pushing.
14. This is the Fire which you used to belie.
[1] (V.51:60)
A ) See the footnote of ( V.3:85 ) .
B ) Narrated Anas ( raa ) : The Prophet ( saas ) said, « Allâh will say to the person of the ( Hell ) Fire who will receive the least punishment, 'If you had everything on the earth, would you give it as a ransom to free yourself ( i.e., save yourself from this Fire ) ? » He will say, 'Yes.' Then Allâh will say, 'While you were in the backbone of Adam, I asked you much less than this, ( i.e., not to worship others besides Me ) , but you insisted on worshipping others besides me.' « ( Sahih Al- Bukhari, Vol. 4, Hadith No.551 ) .»
[2] (V.52:4) See the footnote of (V.53:12).
[3] (V.52:11) See the footnote of (V.17:97).
[4] (V.52:12) Busy in disbelief and evil deeds in this world, that are trials (for mankind), and they are ignoring their eternal end (i.e. punishment in the Fire of Hell, forever).